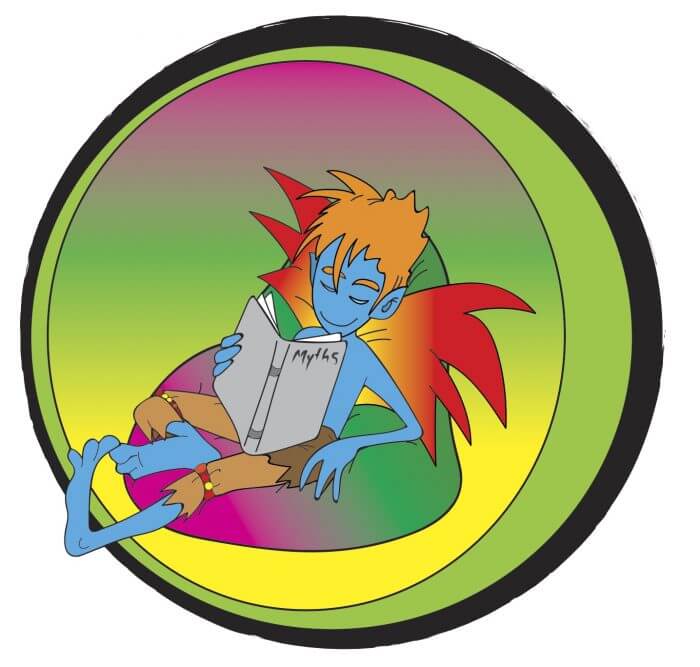 Invitation to teachers and students and parents.
If you would like to review a book and share it with others. Please send  a copy of the review and photograph of the book to beconwiz@beconwiz.com We will review it for inclusion in the site's bookroom.
Ottoline Goes To School By Chris Riddell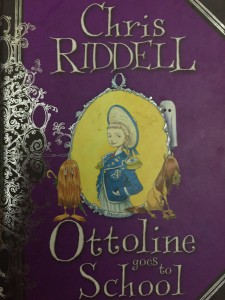 Review by Lilly-Bea (Aged 10)
Warning this review has spoilers do not continue to read if you do not want to know about what happens in  "Ottoline goes to school' by Chris Riddell don't read on.  You have been warned.
The main character in the story is Ottoline. Ottoline is a girl about my age. She lives in Pepperpot building with her best friend Mr. Munroe. Mr. Munroe is from a bog in Norway. Mr Monroe is not a human, he is short and hairy and he doesn't speak. Chris Riddell never really tells you 'what' Mr. Munroe is.
In the beginning of the story, Ottoline and Mr. Munroe go to the park and she meets a girl named Cecily. Cecily has a little horse named Mumbles. After meeting in the park, Cecily and Ottoline keep hanging out at the park. Cecily is taking Mr. Munroe's spot in the friendship. She is always taking his stuff like the birdseeds, twigs, swing, crumbs for the ducks and Mr. Munroe's umbrella. Not long after meeting and becoming friends Cecily has to go to school for the 'Differently Gifted. Ottoline now wants to go to the same school. Ottoline asks her mum and dad if she can go. Ottoline's parent don't really live at home because their always collecting stuff, so going to a boarding school wouldn't mean missing out on seeing her mum and dad. Ottoline doesn't mind that she lives on her own with Mr. Munroe most of the time because she has many people to take care of her.
Ottoline's mum and dad send her the school for 'Differently Gifted". At the school Ottoline meets and invisible boy called Brian who has a pet invisible dog called is Bodge. Other characters at the school are the twin girls Orvillise, and Wilbura. The twins have a pet bird named Richard. Another boy at the school is called Newton. Newton is super smart and instead of a pet he has a robot, Skittles. There is also a princess from Pahang, called Sultana. She has a pet elephant named Bye-Bye. There are other cool characters as well. All of the students go to this school because they all have unusual gifts, read and discover what these gifts are. They are so cool.
The story builds in excitement, as there seems to be a ghost haunting the school. There is tension as Ottoline wonders about what her gift will be.
Cecily tells a scary story and all this kids believe it and all this mysterious stuff happens. It is up to Ottoline and Mr. Munroe to solve the mystery and help everyone feel safe again. It turns out that Cecily did it strange things by disguising her horse as a ghost. She did this because all because she missed her parents. I thought was a bizarre reason at first but when you discover that she had to make an appointment just to get her parents to tuck her. She must have been really lonely.
I thought that 'Ottoline Goes To School' was funny book. I couldn't put it down. I almost went to school in pajamas because I was so busy reading it I forgot to get dressed.
I would recommend this book to anyone aged from 8 -99. It is a good book for boys and girls because all the characters are fun and no-one is interested in soppy or mean stuff.
It was funny funny story. I kept on asking questions like who is the ghost? Why did Cecily try to take Mr. Munroe's spot in the friendship? I like reading books where you always have a question because it makes you want to read more and more and more. I finished two other Ottoline books in the next two day and now I am reading Goth Girl by Chris Riddell.
Chris Riddell is a clever illustrator and author because I kept being able to visualize what was happening either by using the words or by the hidden clues in the pictures. As I was reading I kept on connecting to the characters and stopping to summarize what I had read.
I do recommend this book. Chris Riddell is by far my favorite author and illustrator. I just love how he uses all the senses when he describes or creates an image for reader to embrace. I love how Chris Riddell can almost take the reader to place where the events, objects and characters feel so real because of his descriptive words. This is why I recommend this book. You must read it at all costs.
Thank you for reading my review.

To Love A Sunburnt Country By Jackie French (2014)
Review by Morgan-Belle (16)
I really loved this book. Firstly there were characters from earlier books that tell the story of females that sit beside some of the iconic stories and poems from Australia's early white colonial periods. These books include The Girl from Snow River and The Road to Gundagai.
This is the story of Nancy of the Overflow and how she, her sister-in-law and her baby nephew became World War 11 prisoners in a Malaysian camp run by the Japanese. The book invited me into this rich story of how Nancy at 16 survived not only physically but also mentally in heart aching conditions.
The book flips backwards and forwards between what is a happening at "home" (Australia) and what is happening for Nancy and other inmates of the prison camp.
One of the things that I became aware of was how carefully balanced the story was. It could so easily have become so depressingly sad or portrayed Nancy so romantically heroic as to be hard to swallow.
Instead the book was balanced in a way that people living out circumstances that were grim, generous, loyal, mean, savage, tender, hope-filled, purpose-filled and kind held my attention and carried me into all those spaces in a way that had me realizing that I too would be capable of all those behaviors (that's not always comfortable or pretty I can tell you).
There was quite a lot attention paid to food in the book and my grandmother told me of stories she knew about where these foods were a part of her mother's experience.
I loved the strong sense of belonging that came though the story, how this could survive all sorts of hardships.
I loved that the main character was female and strong and resilient.
I loved the notes at the end of the book, they were very rich and offered all sorts of jumping off places for new understandings.
I loved this book, my mother loved this book, my Auntie loved this book and my grandmother loved this book.
For someone who hasn't lived in Australia this might be an interesting book, especially the attention paid to how the landscape captures peoples' hearts and minds.
This is probably not a book to read at bedtime, because once you start you can't put it down. Pretty difficult when there's school next day.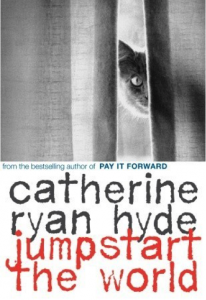 Jumpstart the World by Catherine Ryan Hyde
Review by Asha-Mae (13)
I don't think that there are words that can accurately describe this book. The basic plotline focuses on a 15-16 year old girl who is forced to move out of home after family changes, and issues with mother, whom she has a strained relationship with. She befriends her neighbours, and begins to form an independent life for herself. However, she soon finds out some truth about her friends that force her to look inside herself and question why she sees the world in the way she does. This book speaks of many different representation issues surrounding different group in an observant, objective, yet very intelligent and witty way. The book tackles our perception of the world around us, and makes us look at ourselves, and think objectively and clearly about how we think, and small, unknown prejudices that we may subconsciously hide. The book contains some terms and language that may require discussion, and I would recommend it for readers who aren't afraid to challenge their ideals of the world. I think this would be a wonderful book to introduce to advanced readers in junior to middle high school, but would also resonate with people in the senior sector and in the wider world. Don't be fooled by the appearance of this book. It's not your average novel. Even though it looks like a walk in the park, it will affect you in ways you didn't expect.
Book Room Review

Midnight's Children by Salman Rushdie
Review by Asha-Mae (13)
I read this book during winter of last year, and became completely enthralled in it, a state in which I remained up until the very last page. The book tackles a topic I had very little knowledge about prior to reading it. Salman Rushdie takes the complex issue of Indian and Pakistani independence, and frames it expertly though the eyes of a child born perfectly in line with the independence of India. Saleem Sinai realises he possesses a power unique to the midnight children, who share the same birthdate. As he communicates with them, he begins to become caught up in the conflict that lead to the India-Pakistan split, as well as family tension such as his mother's secrecy, and his father's increasing mental health issues. Midnight's Children casts a spell over its audiences that lingers until the very last word, and remains for a decent few days afterward. It tells the story so innocently and beautifully, and all the while, it is educating it's audiences about a much-neglected topic within history. I would recommend this book to anyone interested in learning about India, Pakistan, or just looking for an exciting, all-encompassing book. The language can be difficult to understand, so I feel like this book may be difficult for some less experienced readers. I also found it helped to discuss the content with another person. I found this book absolutely amazing, and it still remains one of my favourites.
Reviewer: Lilly-Bea  (10years)
The Day The Crayons Came Home by Drew Daywalt & Oliver Jeffers. 2015.
This book was fun, easy to read and had me thinking a bit about how I treat my pencils and crayons.
The book was also funny and had me laughing. I think lots of different ages will enjoy this book.
I thought the illustrations were marvellous. I like how characters from other Oliver Jeffer's books appeared in the pages.I liked how the illustrations had a fit with what the words were saying, but not always. (Hint….. have a look at the Amazon forest page.)
This is a good book to read if you want to relax after school or when you are going to bed. I could read this a hundred times and not get bored with it.
Neon Red is my favourite crayon.
My Mum read it and laughed a lot.
Reviewer: Dante (14years)
Russell Brand's Trickster Tales. The Pied Piper of Hamelin. Illustrations by Chris Riddell.
This is a short and funny book. It makes the concept "normal" an idea to be challenged and explored.
I like how the story pays attention to many characters, it doesn't focus just on the main character, Sam.
I love the illustrations, they are quite silly, very detailed, kinda cool and they really add to the story. On every page there is a small character you have to search for and locate, I enjoy this sort of task.
I think this is a good book to go to bed with. Some of the language might be tricky for eight year olds, so it would be a good book for someone older to read it to them.
Some of the language is pretty funny and will probably make you laugh.
I don't think I'll ever be too old for this sort of book. That is a book that has some history, some character development, some normal book bits and some crazy silliness.
I'd prefer to read this book in hard copy, because I'd read it at night and for that I prefer not to read on a screen, this way I can just read the book till I fall asleep.